HVAC Unit Cleaning
Back To Our Services
Our job is to make the air inside your home healthier and your life a bit less stressful!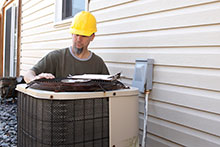 Make Cleaning Easier
However hard homeowners try to clean every single inch of their homes, most of them still end up forgetting to clean their HVAC systems. This means that, as soon as you turn the system back on, the dust inside the ductwork will be blown right out of the vents onto the surfaces you've just finished cleaning. Let our technicians thoroughly clean the air ducts so you can finally spend more quality time with your loved ones instead on chores.
Rodents In Your Air Ducts?
If you hear a strange noise coming from your ductwork, notice any rodent droppings or smell a pungent odor every time you operate your HVAC unit, it's time you got rid of the unwanted guests ASAP. Why? Well, not only are mice and rats well-known disease carriers, but they can also chew through HVAC components and cause other damage to your property. We'll remove any existing bacteria and viruses from your ducts and improve the overall quality of the air in your home!
Clean Ducts Mean Healthier Air
If you thought dust in your HVAC system is your biggest problem, think again. Wherever there is dust, there are other tiny allergens such as mold spores, pollen and pet dander. In other words, every time you turn on your unit, all these particles just get redistributed around your home. The only way you can stop that from happening is by letting our professionals do what they do best.
Call Air Duct Cleaning Tujunga if you'd like to learn more about our services or if you wish to schedule a visit. We'll do all the work so you can rip all the benefits of a squeaky clean HVAC system!